Solstice Solace Self-Care Ritual with Yuliya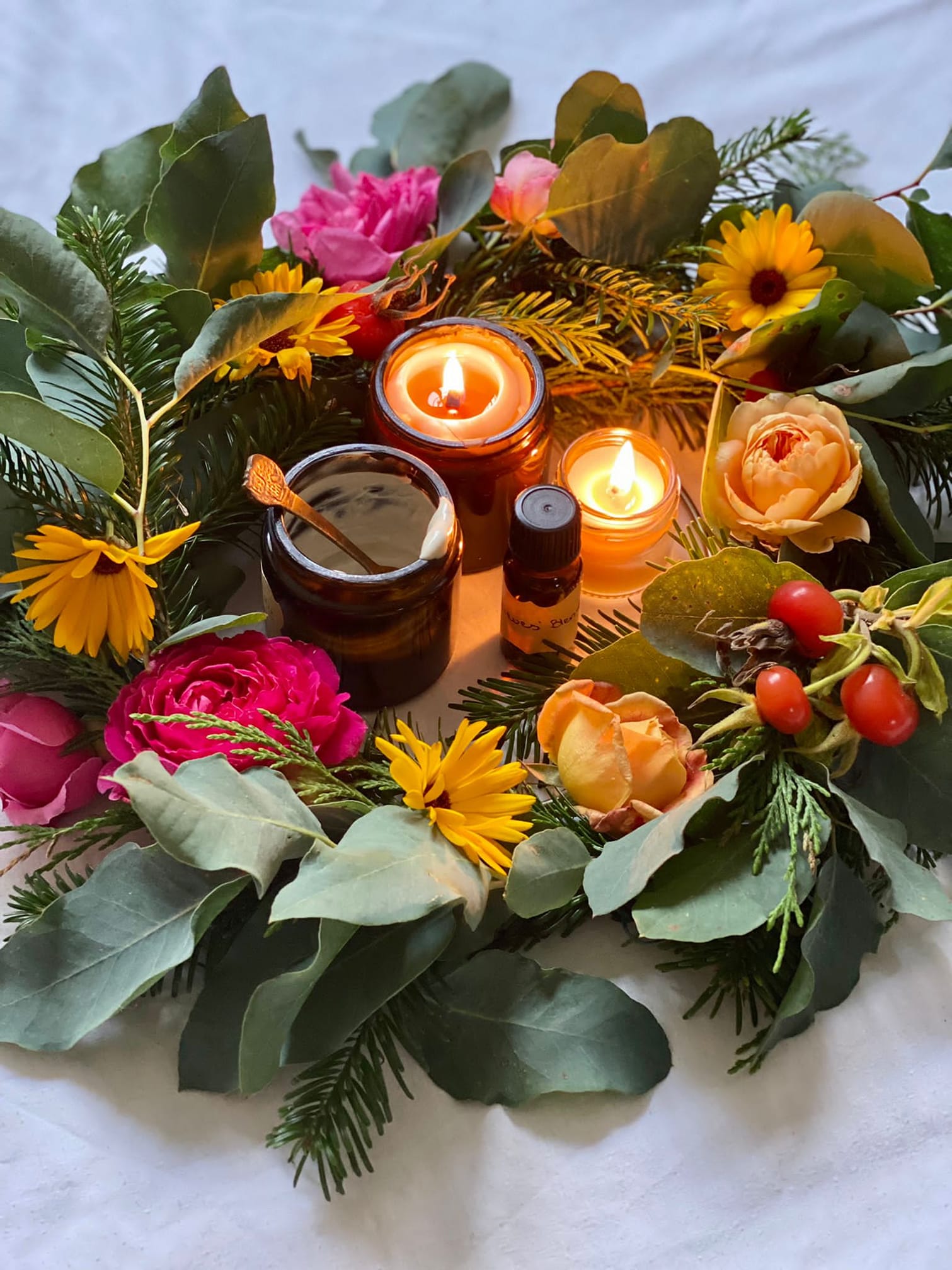 Delighted to host talented Yuliya Higham Yoga + YHApothecary again this Winter.
Sunday 5th December from 2 to 4.30 pm – bookings via our Book Now page
The run up to Christmas is a very hectic time – preparing gifts, meals out, family and friends' get togethers- all beautiful, but also taking an incredible toll on the nervous system, stressing it out and pushing it out of wack. Traditionally though the time around Winter Solstice has been the time to go inward, slow right down and set up body for the long winter hibernation to restore, rest and recharge befor the fertile season ahead. This workshop is an invitation to take a few hours our of your busy schedule and truly dedicate this time to nourish and nurture your nature, refill your own vessel, as from the empty cup you cannot give.
We will start the workshop with a gentle Joint Roll followed by a yin style yoga sequence to warm up the body, reawaken the spirit and get the creative juices flowing freely. We will then discuss how to create a sacred space, untouchable island within your own home, for you to come back to when things become too hectic, festive season or not.
We will then take a short break to sip some restorative herbal tea and snack on season-appropriate treats.
The last hour of the workshop will be dedicated to self-massage techniques, concentrating on face and upper body, using a special grounding blend I have created for the season. Please wear something loose that you don't mind getting oily.
As a yoga teacher and a skincare specialist I believe that radiance doesn't come in a pot. However a combination of mindful breath and movement, clean diet and natural beauty products can work wonders, helping us look and feel great.
I started making my own skincare products many years ago because I wanted to make sure that everything I apply externally would literally be good enough to eat, organic when possible, all natural, with minimal to no preservatives at all, using glass containers to reduce plastic waste. All formulations lean into the Ayurvedic principles of addressing seasonality and doshas, using essential oils to make products that work not only for the skin, but also the nervous system. You can visit https://www.facebook.com/YHApothecary to find out more about the range.
The workshop is open to all genders, but might not be suitable for those with extremely sensitive skin or allergies due to essential oils.
Expect to leave feeling glowing, nourished, grounded, rejuvenated and held.
£35
Book Now here
05 December
Sunday @ 2:00 pm - 4:30 pm
Details
Start:

5th December @ 2:00 pm

End:

5th December @ 4:30 pm

Event Category
Venue
Pure Yoga Cheshire
29, Charlotte Street,
Macclesfield, England SK11 6JB United Kingdom
+ Google Map
No Comments