Kirtan with Tom Shanti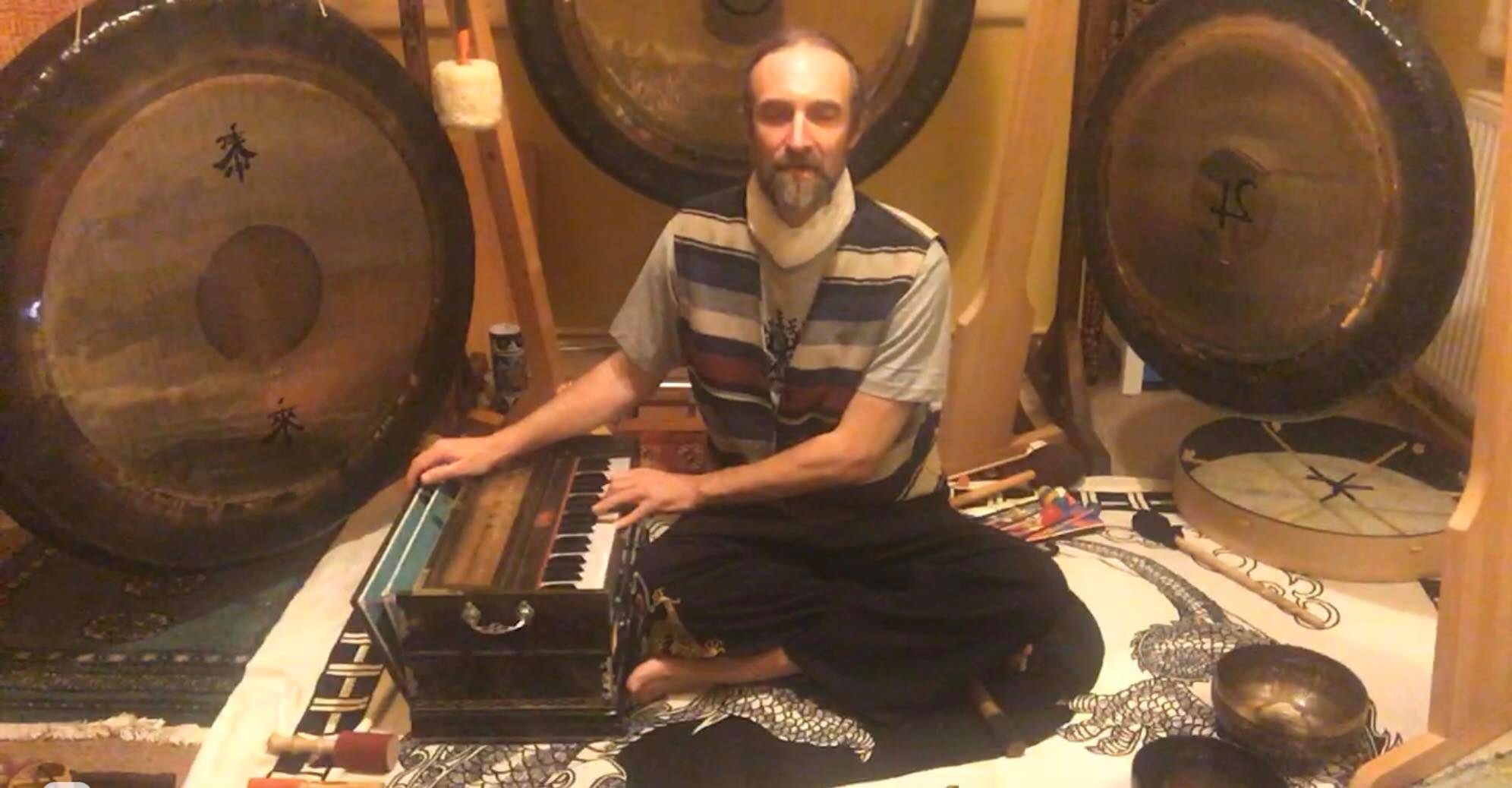 Saturday 7th of May 2022 – from 7.30 to 9.30 pm, £15
Tom Shanti is a Yogi of Sound, a multi instrumental musician and classically trained singer of Hindustani vocals and Tabla. He is an experienced Kirtan Leader having held many Satsang and chanting groups in various venues including Hindu Temples, Buddhist Centres, Yoga studios , retreats and festivals across the UK.
Tom loves sharing the liberating power of sacred mantra from both traditional and contemporary styles . He plays the Harmonium, Guitar and various world drums and likes to include these in his musical mantra offerings either leading or accompanying others who wish to lead a chant or sacred song . The intention of his practice is to create a sacred space to experience ones own true nature of peace and bliss and sink into the heart through Bhakti Yoga.
His sessions also cultivate spiritual awareness , insight and help to clear subconscious obstacles and self limiting belief patterns.
£15
Please book and pay for this event via our website: https://pureyogacheshire.co.uk/timetable/
What is a Kirtan ?
Kirtan is part of an ancient form of yoga known as Bhakti, or the yoga of devotion. It is the practice of singing the many names of the Divine. This practice of calling to the divine creates a bridge between the individual and the eternal, opening the heart and welcoming the spirit. Sometimes soft and meditative and sometimes loud and wildly rhythmic, Kirtan takes the participant on a deep emotional and musical journey through our mostly unexplored inner world. With solo performance and call-and-response group chanting, Tom Shanti is an experienced Kirtan leader and multi musician and loves to create a space of invocation, prayer, and heartfelt expression.
In this age of constant distraction social media and 24/7 news etc our minds are very scattered and it's energy is dissipated. That is why mantra meditation is the easiest way to achieve inner calm and focus. Students report feeling inspired and uplifted after a session of chanting. It helps to open up the heart. The ego is dampened as you get lost in the music, singing like an innocent child, without a care in the world
The ancient practice of Kirtan or yoga mantra has the capacity to open the heart and quiet the mind. These workshops combine mantra with singing. A mantra is a sacred sound in the form of a word or phrase, which is repeated in order to free the mind. Repetition of the mantra in a calm, meditative state, can help us to break habits and behaviour patterns that no longer serve us and can assist in unleashing our creativity and deepest potential. Singing mantras with musical instruments as an accompaniment is a way to help focus and absorb body, mind and soul in the sound. If the mantra is the antidote, the music is the potion that makes it easy to take.
. Any self-conscious thoughts or limiting beliefs are dampened as you become totally at one, absorbed in the rhythm.
Although this is traditionally a spiritual practice, you can just think of it as a sing-along. In this very relaxed, informal environment, the leader sings the mantra, and the audience repeats it back. This is not about having a great singing voice, it's about creating a vibration, so that you may feel a connection with your soul. Therefore, although you are encouraged to find your voice, there is no obligation to participate, so you may just sit and listen and absorb the vibration and soak up the group energy. A single chant can go on for a number of minutes. As you sing with each other you experience a deep connection with the music, the other participants and yourself. And when the music stops, your mind is quiet.
07 May
Saturday @ 7:30 pm - 9:30 pm
Details
Start:

7th May @ 7:30 pm

End:

7th May @ 9:30 pm

Event Category
Venue
Pure Yoga Cheshire
29, Charlotte Street,
Macclesfield, England SK11 6JB United Kingdom
+ Google Map
No Comments