Yoga Slings
*Contact us to book your session, phone 07909 144 414 – full advanced payment required to secure your sling*
We are proud to be one of the very few places to offer YOGA SLINGS in the North of England! Be upside down with confidence and ease, and have fun along the way. A unique opportunity to practice yoga without the pull of gravity – some of the benefits of practising with slings:
build up core strength
release stress from the joints
lengthen and ease the spine
be upside down without adding stress on the neck and shoulders area
deeply relax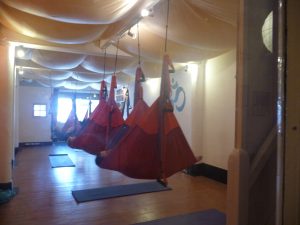 Andrew will guide you safely and easily into a yoga sequence that will be based on the use of the sling and will include inverted postures, chest opening, strength building and also a gorgeous "suspended" long relaxation. This class is suitable for those who have practiced some yoga.
£12 for drop in session – Unlimited class pass holders £ 9  – 10 class pass holders £5 (plus a stamp on their card).
Bookings for private groups also being taken, inquiries are welcome.
10 April
Tuesday @ 2:26 pm - 2:26 pm
Details
Start:

10th April @ 2:26 pm

End:

10th April @ 2:26 pm

Event Category